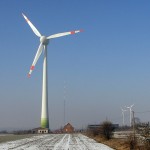 Clusters of wind turbines can frequently be spotted from the window of a train or a car, but occasionally one or two of them are not turning. What does this mean?
It might look as though the turbines have just stopped working, and have been left standing still next to their functioning fellow machines.
However, the truth is that wind turbines are nearly always stopped for a good reason. This can be in order to carry out maintenance and repairs, or often because there is too little or too much wind.