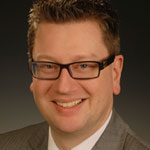 Today's turbines can be mind-bogglingly big, but big is not necessarily better. Mike Woebbeking, Vice President of GL group and chair of a session at EWEA 2012 in Copenhagen on 16 April that delves into turbine size, tells the EWEA blog that size isn't everything…
How has the average turbine size changed over the last decade?
Ten years ago the average size was around 1.5 MW, today it is close to 3 MW. Thus the average size of onshore wind turbines more or less doubled. For offshore wind this is more difficult to say. A decade ago there were only very few turbines installed offshore. The average size could be assumed to be around 1.5 MW. Today the average offshore turbine size is below 5 MW, however 7 MW turbines and bigger are under development. The average size of offshore turbines has roughly tripled within a decade.