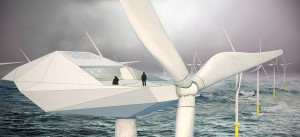 Growing interest in the rapidly-expanding offshore wind sector took a new twist earlier this week when the website of the influential US magazine Popular Science published an article featuring marine-based wind turbine concepts with "super-chic lofts for employees."
The article said that a Bulgarian design firm predicts a future in which gigantic offshore wind turbines come equipped with futuristic housing for workers.
"Part of the inspiration for these lofts was a European Wind Energy Association (EWEA) report estimating that by 2030, there will be over 300,000 jobs in offshore wind power," the article said.
In fact, the European wind industry faces a severe skills shortage of around 7,000 appropriately qualified staff per year. This shortfall could climb to 15,000 by 2030 — nearly 2% of the entire wind industry workforce — if numbers of suitable workers don't increase.