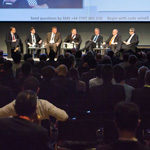 The wind industry is facing tough times, as many industries in the ongoing economic crisis are, but what do industry leaders think are the consequences of this difficult period?
The question of whether or not consolidation is or will be taking place in wind energy was key for the six CEOs sitting on the high-level panel at EWEA 2013 in Vienna this morning. "There are a number of companies suffering and not managing balance sheet in tough times," Alfonso Faubel, Senior Vice President of Alstom Wind Energy, said. "Some players are competitive, others are changing the way they operate," Stephan Ritter, General Manager Europe, GE, said.
While CEOs did not identify high levels of market consolidation in the onshore wind energy market, they did see consolidation taking place in offshore: Only companies with knowledge will survive in offshore, Faubel said. "We need to have companies in offshore who are in it for the long run," Jan Kjaersgaard, CEO of Siemens Wind Power, added.