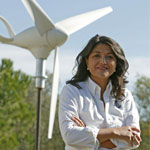 In just a few weeks Copenhagen will be a hive of wind energy activity as EWEA's annual conference and exhibition gets going. In the run-up to the event, the EWEA blog spoke to Ana Estanqueiro, Chair of a session aimed at discovering how to integrate large amounts of wind power into Europe's grids…
What are the main obstacles in Europe to integrating large amounts of wind power?
The main barriers these days are much less on the "hardware" side (access to transmission and distribution grids) and much more on the "software" side: grid-operation principles and electricity market rules. These are currently not well adapted to wind power and need to evolve in order to smoothly incorporate wind-powered electricity. Today, difficulties related to grid access are largely for offshore projects where investments are extremely high and usually need to be coordinated with other economic sectors.