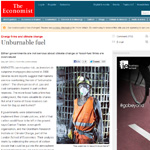 The reason fossil fuel firms are not trying to reduce their carbon emissions could be due to uncertainty on climate and energy policy, suggests the Economist in a recent editorial.
The paper cites cuts in renewable energy support schemes as one of the elements influencing investors. "Companies are betting that government climate policies will fail."
This is exactly what EWEA has been warning for many months:
"The financial and economic crisis has provoked a wave of uncertainty across the European Union since 2010, with national governments making damaging retroactive changes to policies and regulations for wind energy."
The Economist added that in mid-April the European Parliament voted against attempts to shore up Europe's emissions trading system, the world's largest carbon market, against collapse.