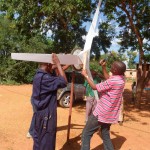 By Fran Witt, Renewable World
One kilowatt may not seem like a lot – some heaters in the West use this much energy every hour. But in Songambele, Tanzania, comparatively little energy is going a long way.
Renewable World, the UK based charity who work to provide renewable energy to remote communities in the developing world, is helping the off-grid community of Songambele to power itself out of poverty.
Climate change has impacted its 21,000 inhabitants, with crops becoming increasingly difficult to grow, resulting in adults and children working longer hours for smaller wages. Today, power provided by a new wind turbine is being used to improve crop yields directly by pumping water for irrigation. This enables children to spend more time at school and provides both time and opportunities for adults to expand their skill-sets.
Together with Tanzanian partners ALIN, and local wind power firm Wind Power Serengeti, Renewable World has established a wind/solar hybrid system which powers a Maarifa (information technology) Centre.  In addition to solar panels, a 1kw wind turbine has been installed to power the Centre, to provide additional power for productive uses, such as access to modern information technology services. The 12 metre tall horizontal axis turbine is locally produced and is designed to cut in at low wind speeds. It produces an average of 3kwH of energy per day.