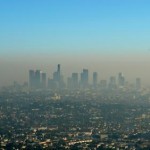 People can expect a catastrophic 50% global increase in greenhouse gas (GHG) emissions and worsening air pollution by 2050 unless politicians rapidly work together to find sustainable growth policies, a new report by the OECD has found.
The Organisation for European Economic Co-operation report also noted that world energy demand in less than four decades could be 80% higher and still 85% reliant on fossil fuel-based energy unless radically new development paths are chosen.
The OECD warned governments take action now to prevent irreversible environmental damage even as they struggle with the ongoing financial crisis and high unemployment.