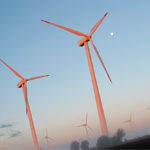 North America was the third place regional leader last year in terms of installed wind capacity with a total of 52,184 MW, according to the latest annual statistics recently released by the Global Wind Energy Council (GWEC).
The US saw an additional 6,810 MW of new wind power capacity added to various grid systems in 2011 while Canada experienced an increase of 1,267 MW, GWEC reported.
By the end of last year, the US had a total of 46,919 MW of installed capacity, GWEC reported, while Canada had 5,265 MW.