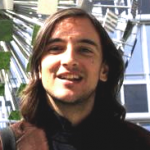 Ricardo Vidal, a wind energy fan from Portugal, is currently topping the voting league in EWEA's campaign to get every turbine in Europe adopted. His turbine in Altdorf, northern Germany has received an impressive 346 votes putting him in good stead to win the competition to visit a wind farm. We caught up with him…
EWEA: Why do you support wind energy?
Vidal: I support wind energy because in my opinion all of us should give our own, even if small, contribution to a better world. A cleaner world where the environment has an important place in our society, and this way we can ensure that the world is a green and prosperous place to live in.
EWEA: What motivated you to adopt a turbine?
Vidal: First of all I wanted to be part of an interesting campaign with a common aim, and then I was attracted to the possibility to show and alert all my friends to the necessity of the place of wind energy in the world agenda.
EWEA: Where are you from and is there any wind energy in your area?
Vidal: I'm original from Portugal, a country where nearly 45% of electricity in the grid will come from renewable sources this year. Portugal has the third biggest ratio of wind energy produced per inhabitant in Europe, as well as being the fifth country in Europe for installed wind power capacity.