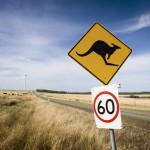 Slow off the mark to harness its significant wind energy potential, recent news reports suggest Australia appears to finally be getting serious about tapping into the many benefits of emissions-free wind power.
Just last Thursday, AGL Energy Limited (AGL) and Meridian Energy (Meridian) announced they have entered binding contracts to construct a 420 MW wind farm at Macarthur in the southwest of the state of Victoria at a total capital cost of AUS$1 billion.
According to a AGL press release, the Macarthur wind farm will, upon completion in early 2013, be the largest in the southern hemisphere, and one of the largest in the world.
Formally launched by Victoria Premier John Brumby, the wind farm near Hamilton, 260 kilometres west of Melbourne, will feature 140 Vestas V112-3.0 MW wind turbine generators.