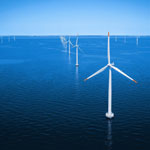 Offshore wind farms can create a host of benefits for the local marine environment, as well as combatting climate change, a new study by the Marine Institute at Plymouth University has found.
The Marine Institute found that wind farms provide shelter to fish species since sea bottom trawling is often forbidden inside a wind farm, and it found that turbine support structures can create artificial reefs for some species.
A separate study at the Nysted offshore wind farm in Denmark  confirmed this finding by saying that artificial reefs provided favourable growth conditions for blue mussels and crab species. A study on the Thanet offshore wind farm in the UK found that some species like cod shelter inside the wind farm.