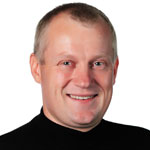 Next week Copenhagen will be buzzing with wind energy professionals keen to find out the latest market and technology developments at the EWEA annual conference and exhibition. The EWEA blog spoke to Michael Nørtoft Frydensbjerg from Siemens Wind Power who is chairing a session on 17 April aiming to uncover how wind power is driving the modernisation of European grids…
What are the limitations of the current EU grid and why does it need to change?
The electricity grid in Europe is mainly designed with an eye to distributing electricity from large power plants. Today power generation is more decentralised and large wind power plants are located away from traditional power plants. These changes in the power generation pattern have to be considered when designing the electricity grid in order to avoid bottlenecks and system collapse.