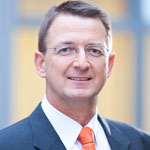 With just over two weeks to go before the biggest gathering of wind energy professionals takes place in Copenhagen at EWEA 2012, Felix Ferlemann, CEO of Siemens Wind Power and Chair of this year's event, tells the EWEA blog of his ambition for the industry and of the challenges that lie ahead…
Where and what are the biggest challenges Siemens Wind Power is currently facing?
The biggest challenge we face is that we have to bring down the cost of wind power. We need to make it competitive with conventional energy sources, because price pressure is growing and wind power cannot be dependent on subsidies forever. The industry will need to invest massively in innovation and industrialisation. But these investments will only be realised if companies have a stable and profitable pipeline of projects. That is our main message to policy makers: We need reliable support schemes so we can make wind power competitive within the current decade.