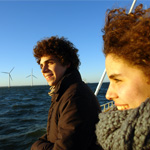 Can you imagine standing in the nacelle of a turbine, 50 metres above a sparkling sea, being buffeted by the wind?
Even for some of those who work in the sector, climbing a wind turbine is a rare and exciting privilege. On Saturday I was lucky enough to do just that for the first time in Denmark, alongside the winners of EWEA's 'Breath of Fresh Air – Adopt a Turbine' competition.
17 year old Lien Van Hout from Belgium got the most votes for the turbine she adopted, and she took her brother along to Copenhagen to enjoy her prize – visits to an onshore and an offshore farm. EWEA's Campaigns Officer Elke Zander, who organised the competition, accompanied them and I went along for the onshore visit.