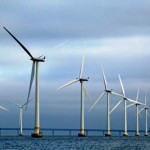 Headlines in the German media have said recently that Germany's offshore wind sector could be facing support cuts, on top of suffering from the already costly grid connection delays. So what is the future of German offshore wind power? We spoke to Andreas Wagner, CEO of the Offshore Wind Foundation (Stiftung Offshore-Windenergie) and part of the team negotiating with German Chancellor Angela Merkel to try and find out…
 EWEA Germany's Environment Minister Peter Altmaier has proposed to substantially change the law for financial support for renewable energy in Germany. Could the offshore wind industry be affected by the same retroactive changes we've seen in other EU countries?
Wagner On 21 March, Chancellor Angela Merkel discussed all options to change the EEG-law [the current law supporting renewable energy – ed] with the Prime Ministers of the 16 German Länder. As a result of this so-called 'energy summit', we will definitely not face retroactive changes for projects for which legally binding contracts have been signed. I doubt if other changes in the EEG will or can be made before the German federal elections in September.
EWEA What were the arguments raised with Chancellor Merkel?