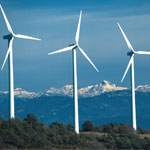 A new opinion poll conducted in Austria has found that 77% of Austrians are in favour of wind energy compared to just 4% in favour of fossil fuels and 1% for nuclear power.
The poll, published on 8 May by the Austrian Wind Energy Association, IG Windkraft, also found that Austrian's are prepared to pay €25 per year for wind energy – five times the level they currently pay.
"Austrians want an energy transition and wish for the expansion of wind power," said Stefan Moidl, Managing Director of IG Windkraft.