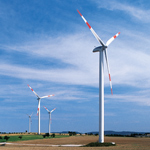 Aviation constraints are a huge issue for the wind industry. In 2011, EWEA carried out a survey and found that 19 GW of wind projects were blocked by radar difficulties in the UK, Finland, Sweden, Germany, Czech Republic, France, Spain, Greece and Ireland.
Many difficulties for wind farm developers come from conflicts with obsolete radar equipment and problems associated with keeping track of system upgrades over time.  According to Renewable UK, for example, half of all wind farm developments in the UK will face objections from aviation stakeholders on the grounds of radar interference, obstruction or impact to low flying. However, a new promising radar technology could be one way to solve some of these problems.
Cambridge Airport in the south-east of England has signed a deal to use so-called 3D holographic radar technology. Its creators claim that the technology is the first of its kind that can reliably discriminate between wind turbines and aircraft based on differences in their behaviour.