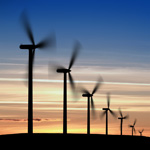 Anti-wind power lobbyists have long contested claims by the wind industry that wind power is competitive with fossil fuels. But technological advances, making wind turbines bigger, smarter, and more competitive in all situations, mean the wind is fast being taken out of the naysayers' sails.
Both EWEA and GWEC, the Global Wind Energy Council, agree that "onshore wind power is competitive once all the costs that affect traditional energy sources – like fuel and CO2 costs, and the effects on environment and health – are factored in". Taking CO2 costs alone, "if a cost of €30 per tonne of CO2 emitted was applied to power produced, onshore wind energy would be the cheapest source of new power generation in Europe," states EWEA. Moreover, wind is already "directly competitive with conventional sources in many places around the world, such as Mexico, Brazil, New Zealand, parts of China and the US," according to GWEC.
Australia also seems to have been added to this list after a report published by Bloomberg New Energy Finance (BNEF) in February stated that wind is now cheaper than fossil fuels in producing electricity in Australia, a story reported on this blog at the time.