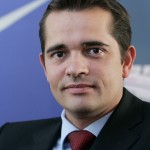 I want you to imagine for a minute you are walking on top of a cliff overlooking the North Sea. The wind is so strong you can lean your whole body into it. Below, almighty waves, swept up in the gale, are crashing onto the rocks.
Now imagine you are in Spain, or perhaps Italy or Portugal. The sun is soaking into your skin.  The sky dazzles with the intense southern light that bounces glaringly off buildings and cars.
With such immense renewable sources of power to hand, it seems incredible that Europe is still having to fork out for fossil fuel imports. It is as though a farmer with a huge and fertile orchard were forced to pay an unreliable neighbour for fruit while his own rot in his back garden.