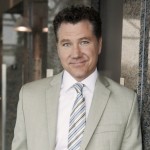 Continuing with the series of "wind energy stories" from around the world, in association with Global Wind Day, Chris Rose from Vancouver speaks with fellow Canadian Chris Forrest.
As a student in Ottawa, Chris Forrest admits he was a bit of a "class clown" interested in writing, music and other creative pursuits. Maths and science did not engage him at all. As a young man, Forrest drifted into newspaper journalism and later the murky but thrilling world of writing crime novels.
Now, at 41, he appreciates the effort, the stamina and the discipline required to reach and hold an audience. And well he should considering he is Vice-President of Communications and Public Affairs with the Canadian Wind Energy Association (CanWEA).
"Communications is at the very core and heart of what we are doing," said Forrest, who has been involved with the Canadian wind energy industry since 2008.