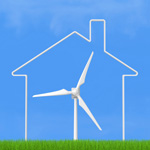 For those who realise the necessity of caring about where energy comes from, the internet is making things easier. People now have access to real-time information on renewable energy, allowing them to make intelligent energy use decisions.
For conscientious consumption of energy in Ireland, visiting www.energyelephant.com allows you to see the current status of electricity production from wind energy in the country, updated every 15 minutes.
The system couldn't be simpler – it is a "smart energy traffic light". An online traffic light shows green, amber or red. Trinity Sustainable Services International in Dublin, which is independent of any electricity generators, runs the system. Chief Executive Officer Joseph Borza told EWEA "If wind energy produces more than 20% of grid electricity it goes green, 10 – 20% amber, less than 10% red".