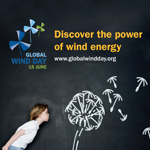 With just over two weeks to go until Global Wind Day (GWD), interest in celebrating the power of wind on or about 15 June is growing in the three nations of North America.
In Boston, the 381-year-old capital of Massachusetts, free scheduled GWD events in the city include educational sessions, movie screenings and political actions designed to raise awareness about electrical generation and use while promoting clean energy solutions.
After spending the week learning about energy in Massachusetts, citizens will gather at the State House in Boston on Global Wind Day — a worldwide event that occurs annually on 15 June — to lobby their elected officials on energy issues.
The focus of the lobby is to support a proposed bill that will make it easier to bring new wind projects online by extending and expanding the ability for utilities and project developers to enter into long-term contracts.
Like other GWD events, the one to be held in Boston is designed to help demystify wind energy. Global Wind Day is the day when people can visit wind farms, meet experts, attend events and find out everything they want to know about wind farms, which now generate emissions-free electricity in more than 75 countries around the world.
In Ocean City, New Jersey, there will be a community kite-flying event hosted by the Sierra Club which is promoting the development of offshore wind.
The Sierra Club will also be calling on Governor Chris Christie to move forward with the offshore wind sector.
While participants are invited to bring their own kites, the Sierra Club will hand out free kites to the first 40 attendees.
In Mexico, meanwhile, GWD-related events will be held at the Universidad Politécnica del Estado de Guerrero (UPEG), Guerrero, and the Universidad del Istmo de Tehuantepec (UNISTMO), Oaxaca.
At UPEG, students, specialists and small business representatives involved in the renewable energy sector will present lectures and hold discussions about conferences about wind energy.
Attendees will participate in a small exhibition about wind technologies, as well as prototypes developed by UPEG students. There will also be a roundtable to discuss aspects of the wind sector in Mexico. In addition, a poetry and painting contest involving UPEG students will be developed.
Activities will also take place on the "Instituto de Estudios de la Energía" (IIE), of UNISTMO. A series of wind-related seminars and conferences given by IEE and UPEG representatives will take place. Lastly, there will be a visit to the wind farms of the Federal Electricity Commission, installed on the Istmo de Tehuantepec, contributing to the students training in the area of wind energy.
In Toronto, the Canadian Wind Energy Association will be holding a Friends of Wind luncheon to celebrate GWD and the growing contribution of wind energy in Canada.
Also on June 15, a ceremony will be held at the Greenwich Wind Project in Dorion, Ontario. The Greenwich Wind Farm is capable of generating about 100 MW of electricity, enough clean, renewable energy to power approximately 30,000 typical Canadian homes.
The European Wind Energy Association (EWEA) and the Global Wind Energy Council coordinate Global Wind Day through a network of partners. The day started as a European one in 2007 and went Global in 2009.
On 15 June, thousands of public events are organised all over the world. Last year more than 230 events were held in 40 countries.
Here is a map of this year's scheduled Global Wind Day events so far: http://www.globalwindday.org/events-2012/