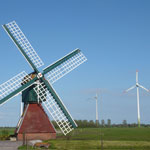 From India to Italy, the Global Wind Day photo competition has now received over 1,000 entries from across the globe. "Surpassing all our expectations, we have received hundreds of stunning images portraying wind energy in new and unusual ways," Elke Zander, Campaigns Officer for the European Wind Energy Association, said.
The photo displayed here – an intriguing juxtaposition of the traditional and the modern – was entry number 1,000!
You still have time to submit your best shot for this international competition – 'Wind In Mind' – and put yourself in the running to win a €1,000 Amazon voucher and for your photo to become part of the online professional photography archive www.hardrainproject.com. In addition, five runners up will get an Amazon voucher worth €250.