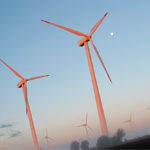 North America was the third place regional leader last year in terms of installed wind capacity with a total of 52,184 MW, according to the latest annual statistics recently released by the Global Wind Energy Council (GWEC).
The US saw an additional 6,810 MW of new wind power capacity added to various grid systems in 2011 while Canada experienced an increase of 1,267 MW, GWEC reported.
By the end of last year, the US had a total of 46,919 MW of installed capacity, GWEC reported, while Canada had 5,265 MW.
Denise Bode, CEO of the American Wind Energy Association, noted that the US wind sector's long-term fundamentals are strong. "We have installed more than a third of all new American electric generation in recent years and are well on our way to providing 20% of America's electricity by 2030," she said.
Earlier this week, Bode encouraged federal politicians to vote to quickly extend the Production Tax Credit (PTC), the main incentive for the wind energy sector in the US.
"The clock is ticking and the stakes for a timely extension of the PTC could not be clearer," Bode said. "We stand to lose one of America's best new sources of American manufacturing jobs…Economic studies have shown that Congressional inaction on the PTC could kill 37,000 American jobs, shutter plants and cancel billions of dollars in private investment."
Meanwhile, Chris Forrest, Vice-President of Communications and Marketing of the Canadian Wind Energy Association (CanWEA), said Canada is emerging as a very competitive destination for wind energy investments.
"Maintaining that position will require continued commitments to aggressive targets for wind energy development and a stable policy framework," Forrest said. "As Canada continues to renew its electricity generation resources, wind energy will play an ever-increasing part in delivering reliable, economic and clean electricity."
Following the GWEC statistics, a new report by Pike Research indicated wind energy installations in North America will pass 125 GW by 2017 – more than doubling from 2011 to 2017 – with onshore installations accounting for more than 97% of that total.
Meanwhile, a poll commissioned for CanWEA found 78 per cent of Ontarians say wind energy is one of the safest forms of electricity generation.
"It is time to embrace renewable energy in all of its forms, including solar and wind powered energy. Ontarians with asthma and other chronic lung disease are already benefiting from the closure of coal plants," Dr. Robert Oliphant, CEO of the Asthma Society of Canada, said in a CanWEA press release.
"We should support renewable energy generation because it does not harm the air we breathe," Oliphant added. "In all forms, renewable energy is a safe and healthy alternative to fossil fuels."