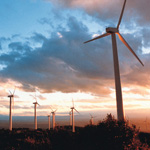 Anyone who has ever travelled through Wyoming comes away realising that the US state is an iconic symbol of wide-open spaces, intimidating mountain ranges and powerful winds.
Building on this natural bounty, it now seems likely that the state will soon be home to North America's largest wind farm — as many as 1,000 turbines generating up to 2,500 megawatts of emissions-free electricity for 30 years.
The US Interior Department's Bureau of Land Management (BLM) has recently named the proposed Chokecherry and Sierra Madre Wind Energy facility as a renewable energy priority project for 2012.
The company that owns the proposed wind farm, Power Company of Wyoming (PCW), says the facility would take advantage of the nation's best wind resources to power up to 800,000 homes.
Located in cowboy country, the wind farm could cost between €3.1 billion and €4.7 billion and, after final approval, become operational by 2015. It would use less than 2,000 acres of a 320,000-acre ranch.
Currently, the world's largest onshore wind farm is located in Roscoe, Texas. It consists of 227 wind turbines which generate 781.5 MW for up to 250,000 homes.
"With the potential to generate approximately 2,500 megawatts of clean energy, the project will ensure a reliable, cost-effective supply of renewable electricity that's unmatched in the West," PCW says on its website. "This output will help America reduce greenhouse-gas emissions, diversify energy sources and meet growing demand for renewable energy. At the same time, the wind project will generate hundreds of good jobs, millions of dollars in tax revenue and other economic benefits."
As part of the federal government's effort to diversify the nation's energy portfolio, BLM will also be giving priority status to five other US wind farms this year.
Upon completion, PCW's project would enhance cumulative installed US wind power capacity which stood at 40.1 GW at the end of 2010, just behind China, the world's national leader, with 42.3 GW, and just ahead of third-place Germany with 27.2 GW.
As a region, Europe was the global leader with cumulative installed capacity of 86 GW at the end of 2010, Asia was second with 58.6 GW and North America was third with 44.1 GW.