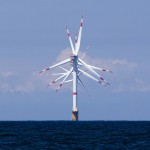 By Julian Scola, EWEA Communication Director
A report published in Britain has claimed that 'wind power is expensive and yet is not effective in cutting CO2 emissions' and that 'there is no economic case for wind-power'. The report has been the jumping-off point for sensationalist articles in UK media claiming that wind power is 'unreliable and requires conventional back-up capacity' by conventional gas-fired generation, which can emit more CO2 than the  most effective gas turbines running alone, and even headlines like "Wind farms cause greater pollution".
The report, entitled 'Electricity costs: the folly of wind power', produced by Civitas, has been roundly criticised for inaccuracy, non-peer-reviewed and biased research, and failing to understand how a modern electricity grid works. The report is based on research by Colin Gibson. According to RenewableUK, he makes assumptions that "significantly inflate the cost of energy from wind". Also cited is Dutch physicist Dr. Kees le Pair, a long-time critic of the wind industry and author whose work is not peer-reviewed. The report is written by Ruth Lea, a "prominent critic of climate policies (particularly the promotion of renewables)", according to the Guardian.