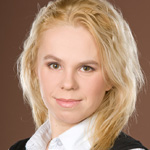 By Tuuliki Kasonen, General Manager, Estonian Wind Power Association
Offshore wind energy is an innovative new industry, which by creating thousands of jobs and intensive investments gives Europe a necessary impulse for economic growth. It can also provide the missing pieces in the energy and climate puzzle that Europe needs to solve urgently. What I brought home from EWEA OFFSHORE 2011 – the world's largest offshore wind energy event – was the feeling that the next decade will be crucial for bringing down the costs and filling some gaps to make this type of energy production a really competitive one.
The EWEA OFFSHORE 2011 conference started with a live broadcast from a Dutch offshore wind farm by Sarah Azau who in spite of heavy wind and seas courageously reported how high-tech the industry has become and how for example the Far and Large Offshore Wind innovation program (FLOW) has been activated to decrease costs. During the following three days in Amsterdam it was discussed and shown in the conference that the turbines and ambitious projects are there, the necessary legislations are set and money for good and well-prepared projects is also available. But various speakers and also the newly-launched EWEA report "Wind in our Sails" stressed the importance of growth in electrical infrastructure, substructures, vessels, and ports.
This is a wake-up call for all of us including traditionally non-wind energy industry countries who have so far only admired the contributions and achievements of Germany, Spain and Denmark in the wind energy sector. Offshore wind energy is the answer to so many questions and more countries are expected to commit their knowledge, capacity and experiences to boost this industry. Estonia's offshore wind farms may be in the early development stage but I am glad that our industry has already made its move. For example an Estonian company BLRT Marketex, one of the members of Estonian Wind Power cluster, announced on the first day of EWEA's Offshore 2011 that they will deliver a UK vessel operator for wind farm catamarans available for offshore wind energy projects throughout Europe.
The business opportunities are not only for vessels, but also for foundations and ports. For example, even though the tendency seems to be that components are exported directly from the manufacturing facilities to offshore wind farms, the EWEA report also writes that the competitive advantage of Eastern Europe ports can change or slow down this this trend.  It is now up to Poland, Lithuania, Latvia and Estonia to decide whether to take this opportunity into the next level. If the competitiveness of offshore wind energy gains from this then it would be a great loss not to.