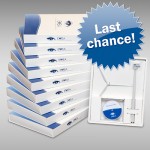 At the European Wind Energy Association we are keen on involving our audience as much as possible. Right now we are focusing on improving our website and we would like to ask you for your opinion – and give you the opportunity to win a gleaming mini wind turbine.
What do you think of our website ewea.org? How do you rate this blog? What about our coverage on our social media channels? This is your chance to tell us what you value, what you find difficult or uninteresting about our site, or any other insight.
Click here to fill in the survey and enter the competition to win one of ten fabulous mini turbines for your office desk or home mantelpiece!