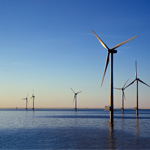 A number of bankers, investors and developers taking part in a panel at the EWEA OFFSHORE 2011 conference in Amsterdam on Thursday agreed financing can still be arranged for expensive offshore wind farm projects despite the ongoing debt crisis.
Sean Klimczak, Managing Director in the Private Equity Group of Blackstone, said he is "relatively optimistic about the opportunities" to raise money for European offshore wind farms.
"We here at Blackstone remain committed to the offshore wind industry in Europe," said Klimczak, whose firm raised €1.2 billion in financing for the 288-MW Meerwind project off Germany's coast.
Jerome Guillet, of Green Giraffe Energy, agreed with Klimczak's upbeat assessment.
Guillet told the panel — Show Me the Money: How to raise Capital for Offshore Wind — that there is enough financing money available today for the offshore wind sector.
"The market is growing and the money is there for it to continue to grow," Guillet added.
Jorgen Kragh, who focuses on financing wind farms for EKF, the Danish Export Credit Agency, described the European offshore market as "booming" but said more banks need to get involved in financing offshore wind transactions.
"There needs to be a lot of banks to close these deals," Kragh said.
Frank Coenen, CEO of InControl which develops offshore wind farms, said the sector has to prove to financiers that it can do what it says and deliver a project on budget.
"It's a difficult world," Coenen said. "Many people still fear the construction risks . . . we have to give them trust."
Marc Schmitz, who is responsible for European wind power projects for Rabobank International, said the growing offshore sector is still experiencing a long learning curve.
In terms of financing offshore projects, Schmitz said the sector requires stable support schemes while providing proven technologies and solid, credit-worthy partners.
"We need stable support from governments," he said, adding institutional investors need to take a bigger role in the industry.
Schmitz predicted the offshore wind sector would be able to compete with other sources of sustainable energy in 10 to 15 years.