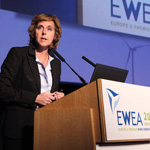 It was a tough year. The financial and debt crisis lurked in Europe and the US throughout 2011 and even fast-growing economies in Asia began to stutter. The international community still did not come up with a legally-binding agreement on limiting and then rapidly reducing toxic greenhouse gas emissions. Unemployment was high, social unrest leapt from country to country. And yet, despite all that despair and uncertainty, wind power remained a beacon of good, proving to weary politicians that the emissions-free technology can deliver on jobs, electricity supply, and the environment. The EWEA Blog covered developments;
January got off to a roaring start with an analysis by EWEA of all 27 National Renewable Energy Action Plans showing that the EU as a whole will exceed its target of 20% of energy from renewables by 2020.
Towards the end of the month some of world's leading companies and non-profit organisations announced they were supporting the development of a global consumer label called WindMade which identifies products made with wind energy.
February offered a posting about an academic study claiming that the installation of 3.8 million 5 MW wind turbines could generate half the world's power needs by 2030.
Later, in Brussels, EU Energy Commissioner Günther Oettinger said "we
must act today to prepare the electricity highways of tomorrow." He also deplored the length of time new grid lines take to get approved and built, saying it was "unacceptable."
March began with the British wind energy sector entering a new phase when the first commercial wind farm in the UK was repowered with new, more efficient turbines. Opened in 1991, the wind farm in Delabole, Cornwall consisted of ten 50 metre high turbines with an annual output of about 12 million KWh, enough to power approximately 2,700 average homes. The four new 100 metre high turbines have a total combined capacity of 9.2 MW, enough to supply around 7,000 homes with electricity.
People arriving in Brussels for the EWEA 2011 Annual Event likely chatted about what is expected to become the world's largest offshore wind farm after the developers of the London Array announced that the first of 177 foundations had been installed at the 630 MW London Array Offshore Wind Farm in the Thames Estuary.
Meanwhile, people attending the opening session of the EWEA 2011 conference were told Europeans must understand continuing to depend on expensive oil for energy is a losing proposition. "Let there be no doubt, the new energy reality is here," Lykke Friis, Denmark's Minister for Climate and Energy, said. "We simply must end our oil addiction."
Later at the conference, much buzz was generated after EU Climate Action Commissioner Connie Hedegaard said "when we talk about the electricity sector, not the total energy consumption, but electricity, than I think by 2050 we'll have 100% renewables in Europe. I think that is perfectly doable."
Lost in the excitement of the EWEA event was a press release from the American Bird Conservancy noting that at least 500 million birds are killed in the US each year by cats, compared to the 440,000 birds reportedly killed annually by collisions with wind turbines. That means in the US, wind turbines kill each year 0.088% of the birds killed by house cats.
April saw a new report released by the Carbon Trust that said the UK offshore wind power industry was expected to capture about 10% of the global sector by 2050 and employ up to 230,000 people in Britain.  The report also found offshore wind could represent a gross contribution to UK GDP of up to €11 billion a year, or €113 billion cumulatively between 2010 and 2050.
The Global Wind Energy Council (GWEC) released a new total for wind power installed in China last year. A press release noted China added 18.9 GW of new capacity in 2010, bringing installed Chinese capacity to 44.7 GW. "China has become the single largest driver for global wind power development," said GWEC Secretary General Steve Sawyer.
May postings included one suggesting politicians should read a new report saying that the nuclear industry was in decline. Published by the Worldwatch Institute, the report noted annual capacity additions of renewables have been outpacing nuclear start-ups for the past 15 years. Called "Nuclear Power in a Post-Fukushima world," the report said that in 2010, for the first time, the cumulative installed capacity of wind power (193 GW), small hydro power (80 GW), biomass and waste-to-energy (65 GW), and solar power (43 GW) reached 381 GW, outpacing the installed nuclear capacity of 375 GW prior to the March nuclear disaster in Japan.
Offshore wind energy in Germany took a huge leap forward after Angela Merkel, German Chancellor, officially opened the country's first offshore wind farm in the Baltic Sea. Known as Baltic 1, the wind farm consists of 21 2.3-MW turbines that will be able to power the equivalent of 50,000 households.
Later in May, Germany decided, following the nuclear accident in Japan, to phase out the use of nuclear power by 2022. The move stands to put the nation on a path to massively increasing wind power and other renewable energies.
A posting on the last day of the month revealed a startling setback to the goal of limiting global temperature increase to 2°C when the International Energy Agency said carbon dioxide emissions in 2010 were the highest in history.
June again launched Global Wind Day, a growing phenomena celebrated mid-month in Brussels and throughout many countries around the world, including Austria, New Zealand, Australia, Finland, Portugal, Argentina, the US, India, Japan, Germany, the Czech Republic, Estonia, Mexico, England and Ukraine. Events paid homage to the power that resides in the wind – power that creates electricity and can bring us a greener future free from dependence on polluting and expensive fossil fuels.
July witnessed David Suzuki, Canada's best-known environmentalist, dismissing wind power critics and saying the emissions-free generating technology should be embraced by a world dealing with climate change. "It's never easy to find energy technologies that will satisfy everyone, but with the world facing ever-growing negative consequences of burning fossil fuels, we must weigh our options," Suzuki said. "In doing so, wind power comes out ahead."
Days later, a TNS Gallup poll found more than 50% of 31,000 people surveyed worldwide say they would pay more for products made with clean energy. In addition, 90% want more renewable energy and 79% have a more positive perception of brands produced using wind energy.
That was followed by a REN21 Renewables 2011 Global Status Report which showed that wind power and other renewables supplied an estimated 16% of global final energy consumption in 2010 and delivered close to 20% of global electricity production.
August brought a new study of the Egmond aan Zee offshore wind farm in the Netherlands which showed that many species of marine life — including mussels, anemones and crabs — can benefit from the presence of an offshore wind farm.
A new report by global consultancy Frost & Sullivan revealed wind power is expected to dominate Africa's renewable energy sector over the next decade. The company added the total renewable power investment in Africa, which was €2.5 billion by 2010, is expected to grow to €40 billion by the end of this decade.
September revealed findings from an EWEA analysis that indicated Austria will lead Europe when it comes to sourcing the highest percentage of electricity from renewable sources in 2020. The small, mountainous nation will source an impressive 71% of its electricity from renewables.
Late in the month a Renewable Energy World article on Brazil, the largest and most populated nation in South America, said wind power and other renewables are set to see their contribution to the country's electricity supply increase from eight per cent to 16 per cent by 2020.
October saw new research that found an interconnected offshore grid connecting Ireland to France, the UK to Belgium and Germany to Sweden could result in a €14 billion reduction in investment costs as opposed to cables that connect individual offshore wind farms to the shore.
Days later in Vancouver, the Canadian Wind Energy Association annual conference was told Europe, Asia and North America will remain the global leaders in wind power development for the foreseeable future.
As the month drew to a close, a new report — China Wind Energy Development Roadmap 2050 — predicted that the Asian nation could have 1,000 GW of installed wind power capacity by 2050.
November postings included a report by Pike Research that predicted wind power installations by 2017 will represent a €113 billion global industry, up from €57 billion in 2011. Over that period, the report added, the cumulative investment in new wind power capacity will total €606 billion.
A posting from the opening session of EWEA's OFFSHORE 2011 conference in Amsterdam noted some of the hot topics included cost cutting, calls for innovation in the industry and calls for industry cooperation across Europe. Ian Marchant, CEO of SSE Renewables, said the offshore European wind industry is now growing up. With 140 GW online, planned or consented, the industry is entering a new phase. "But we need to be bolder", Marchant said.
December resulted in a posting about Dr. W. David Colby, the acting medical officer of the Ontario municipality of Chatham-Kent, who announced there is no scientific evidence of a link between wind turbine sound exposure and health problems. "Wind turbines do not produce unique sounds in terms of intensity or characteristics," Colby said.
A deal of sorts was reached in Durban at the UN climate change conference when negotiators hammered out an agreement that would see both developed and developing nations reduce toxic greenhouse gas emissions, caused mostly by burning fossil fuels. Governments would adopt a universal legal agreement on climate change as soon as possible, but not later than 2015. The new agreement would not come into effect until 2020. In the meantime, the already lacklustre Kyoto Protocol would be extended by up to five years. Unfortunately, the Durban agreement does nothing now to deal with the carbon-emissions time bomb that grows more destructive each year. Rémi Gruet from EWEA, who attended the UN talks, was also sceptical. "This is a dramatic failure from governments to address one of the two crises the world is currently facing – one that will have much more long term effects than the economic crisis," Gruet said. "There is a complete discrepancy between investments in renewable and low-carbon technologies on the ground, and the willingness of decision makers to commit themselves. In 2010, more investments were made in low-carbon technologies than in fossil fuels for the first time ever. It is about time that governments realise this fact."