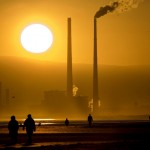 "Fossil fuels got six times more aid than clean energy, IEA says" – Bloomberg
"World headed for irreversible climate change in five years, IEA warns" – Guardian
"IEA warns on global energy policies" – Financial Times
These are just three of the headlines on the International Energy Agency's 2011 World Energy Outlook published on Wednesday and widely reported by the world's media.
"The world will lock itself into an insecure, inefficient and high-carbon energy system if it does not adopt a bold change of policy directions," the Financial Times quoted the IEA report as saying. Governments must introduce "stronger measures to drive investment in efficient and low-carbon technologies," it went on to say, according to the IEA report.
An IEA press release said that it expects primary energy demand increases by one-third between 2010 and 2035. Overall, "the share of fossil fuels in global primary energy consumption falls from around 81% today to 75% in 2035," the press release said. "Renewables increase from 13% of the mix today to 18% in 2035."
Climate change
The Guardian said that this 'lock-in' effect will happen as the world builds more new fossil-fuel powered plants today that will carry on producing carbon for decades to come. "This lock-in effect will be the single factor most likely to produce irreversible climate change," the newspaper said.
The European Wind Energy Association has long argued that Europe should stop building fossil fuel plants by 2015 to meet our 2050 climate objectives of reducing carbon emissions by 80-95% because any a fossil fuel plant built after 2015 could still be producing by 2050.
On limiting global temperature rises to no more than 2°C (beyond which the world would likely experience dangerous climate change), the FT reported Fatih Birol, the IEA's chief economist as saying, "if, as of 2017, there is not the start of major and clean new investments, the door to 2°C will be closed."
IEA Executive Director Maria van der Hoeven added that growth, prosperity and rising population will inevitably push up energy needs over the coming decades. "But we cannot continue to rely on insecure and environmentally unsustainable uses of energy," she said.
The report found that under the New Policies Scenario, cumulative CO2 emissions over the next 25 years would lead to a long-term average temperature rise of 3.5°C.
"Were the new policies not implemented, we are on an even more dangerous track, to an increase of 6°C," said the release, adding the report also presents a 450 Scenario, which traces an energy path consistent with meeting the goal of limiting temperature rise to 2°C.

Subsidies
Bloomberg reported that fossil fuel consumers worldwide received about six times more state subsidies last year than were given to the renewable-energy industry. "Aid to cut the price of gasoline, gas and coal rose by more than a third to $409 billion as global energy prices increases, compared with $66 billion of support for  biofuels, wind power and solar energy," Bloomberg quoted the report as saying.
These subsidies are "creating market distortions that encourage wasteful consumption…the costs of subsidies to fossil fuels generally outweigh the benefits", the IEA said.
Birol, in an interview with Euractiv, said that the "$409 billion equivalent of fossil fuel subsidies are in place which encourage developing countries – where the bulk of energy demand and CO2 emissions come from – [towards a] wasteful use of energy." Euractiv reported Birol as saying that cutting fossil fuel subsidies in major non-OECD countries is "the one single policy item" which could help reorient the worlds path towards dangerous climate change.
The IEA report was released the same day as the EWEA published a new report revealing that by 2020, the EU emissions-free wind industry would avoid 342 million tonnes of CO2, equivalent to 31% of the EU's target of reducing emissions by 20%.
Read EWEA's climate report here.
Read the IEA report here.
Additional reporting by Chris Rose