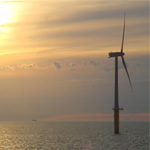 Germany, the UK, Spain and France will install the most wind power capacity between 2011 and 2020 in Europe, new statistics show. Up until 2011, 15% of new capacity will be installed in Germany, 14% in the UK, 13% in Spain and 12% in France.
These statistics, contained in the European Wind Energy Association's Pure Power report, show a more diverse picture than the early days of modern wind power which saw Denmark, Germany and Spain with a clear wind power lead over the rest of Europe.
In total, wind energy capacity will increase by 146 GW to reach 230 GW by 2020 – up from the current total of 84,324 MW.
Italy, Poland, the Netherlands, Sweden, Greece and Ireland are each expected to account for 3-7% of the increase in power capacity, while Portugal, Belgium, Bulgaria, Romania, Austria, Denmark, Finland and the Czech Republic will each account for 1-3% of the increase.
Today, 25 EU member states have wind power, and by 2020 all member states are likely to have operating wind farms.
Reaching these predicted levels – which will bring enough wind power to meet up to 16.5% of the EU's electricity powering around 140 million homes, and saving around 342 million tonnes of CO2 from being emitted into the atmosphere – hinges on better and extended electricity grids, and investment in R&D.
EWEA is in the throes of a campaign to call for grid updates and extensions, as well as a single European market for electricity. Read more here.
To read the full Pure Power report, click here.