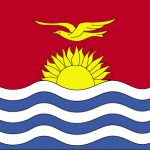 Having witnessed first-hand the impact of rising sea levels in the south Pacific due to climate change, UN Secretary-General Ban Ki-moon called again on Wednesday for rapid international action to reduce greenhouse gas emissions.
In a joint statement in Auckland with leaders of Pacific island nations, Ban noted that climate change is one of the greatest threats to people living in the region.
The statement "emphasized the need for an ambitious reduction of greenhouse gas emissions sufficient to enable the survival and viability of all Pacific Small Island Developing States." It also called for the UNFCCC COP 17 meeting in Durban, South Africa in December "to deliver a comprehensive outcome persistent with this objective."
Before arriving in Auckland, Mr. Ban visited the low-lying island nation of Kiribati,
which consists of 33 coral islands in the central Pacific Ocean about 4,000 kilometres southwest of Hawaii. Most of Kiribati, which has a population of about 100,700 people, is only six metres above sea level.
According the UN, Ban described Kiribati as being at the "front of the frontlines" on climate change, stating that he has been urging world leaders to urgently reduce toxic greenhouse gas emissions caused by burning fossil fuels.
"I have seen for myself the real threats that are impacting on people. People are afraid of their own future, particularly young people," Ban was quoted as saying.  "The high tide [in Kiribati] shows that it is high time to act. I was so surprised to see the impact of these high tides, inundating these villages and roads. That can be prevented if we act now."
In July, Ban told diplomats attending a UN Security Council debate on the impact of climate change that global warming is a very real threat to international peace and security. He said then that the December meeting in Durban must make progress in reaching a new agreement on reducing greenhouse gas emissions, adapting to climate change and funding mitigation efforts.
The European Wind Energy Association agrees with Ban and has also urged international negotiators to reach a new post-Kyoto Protocol on reducing CO2 emissions created by oil, coal and gas. EWEA's  Senior Regulatory Affairs Officer Rémi Gruet will be at COP 17 in Durban urging progress towards an agreement that will help fight climate change.