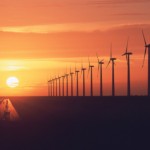 More than 50 percent of 31,000 people surveyed worldwide say they would pay more for products made with clean energy. In addition, 90 percent want more renewable energy and 79 percent have a more positive perception of brands produced using wind energy.
The poll, conducted in May 2011 by TNS Gallup and commissioned by wind turbine manufacturer Vestas, points to the importance ordinary people place on finding solutions to climate change – a full "53 percent of Chinese consumers rank climate change as the world's greatest single challenge", according to the poll.
One way to mitigate climate change is renewable energy, and this is obvious to a majority of people polled. They are prepared to pay more and make an effort to protect the environment. "The citizen and the consumer is coming together as a new stakeholder that is engaged in development and one that knows it can influence societal development through buying habits," says Morton Albaek, senior vice president for Group Marketing and Customer Insight at Vestas. But how do consumers know which companies are making an effort to reduce their carbon footprint and reduce climate change?
Not entirely by coincidence, Vestas has joined with Bloomberg to create the Global Corporate Renewable Energy Index (CREX). The aim of the index is to clearly identify "the level of renewable energy used by corporations around the world and provide much-needed transparency", for consumers, corporations, investors, NGO's and policy-makers.
This year, TNS Gallup received 176 responses from the largest 1,000 global companies they asked to answer the survey. The results show that sector leaders using most renewable energy are News Corp. (Communications), Plum Creek Timber (Basic Materials), Kohl's Corporation and Whole Foods Market (Consumer), CLP Holding (Energy & Utilities), Toronto-Dominion Bank (Financial), Vestas Wind Systems (Industrial) and Adobe Systems (Technology). Whole Foods Market, which uses 100 percent wind energy, was named Global Wind Energy Champion.
So, if consumers want to support a company that uses renewables, they can shop in Whole Foods. But for the vast majority of ordinary people that will not see the index, there will soon be an easier way to identify products and brands produced using environmentally sound resources – WindMade. Another initiative involving Vestas, this is a label that allows consumers to see if they products they are buying are produced using wind energy. Still in its infancy, the WindMade label will be placed on products that use at least 25 percent renewable energy.
All three projects are important steps towards achieving the transparency required to allow people to change their world through the choices they make.