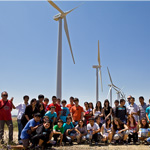 A sampling of last week's Global Wind Day events — from New Zealand to Argentina, Belgium to Canada, the US to India, Australia to Japan — reveals a rapidly growing interest in harnessing the emissions-free power of wind energy.
In Buenos Aires, Argentina, children at a state school developed their imagination and creativity by drawing cartoons and comic strips which focused on learning about wind power's many benefits.
In Chennai, India, well-known saxophonist Dr Kadri Gopalnath and his group played a live concert at a music academy called "Whispers of the wind, Music to your ears."
In Japan, field trips to wind farms were held in Yokohama, Cyoshi, Kakegawa, Suttu, Akita, Hirado and other places.
In the US, Vermont Governor Peter Shumlin said the state was at an energy crossroads. "It's time for an energy shift and wind energy must be part of that change," said Shumlin, as part of an event organised by Renewable Energy Vermont.
In New Zealand, Energy Efficiency and Conservation Authority chief executive Mike Underhill was reported saying that the nation's main generators are all pursuing wind energy because it is one of the cheapest forms of new electricity generation. "Wind energy is an excellent complement to New Zealand's existing hydroelectricity generation," Underhill was quoted as saying.
In Canada, there were tours of both an Ontario wind turbine manufacturing plant in Stevensville and an escorted tour of the nearby Mohawk Point Wind Farm.
And so it went across the planet. Included among other nations that also held Global Wind Day celebrations were Germany, Austria, Estonia, Mexico, the Czech Republic, England, Ukraine, Portugal and Finland.
While this quick review of Global Wind Day events on 15 June and throughout the rest of last week is far from complete, it does show how the immense power of wind — on an economic, energy supply and environmental level — is establishing itself as an international winner.
For more information, please visit the Global Wind Day website.