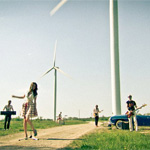 By Tuuliki Kasonen, General Manager of Estonian Wind Power Association
Ever heard of people saying "life is nowadays happening online"? Well, that's where the Global Wind Day took place in Estonia this year. The key activities were fun video clips going viral in social media combined with an online interview where people were able to ask everything about wind energy. We handed out flower seeds at the Ehituse ABC (Building ABC) stores but for that single physical action that took place in four cities we also had a home-made video of how to plant those seeds.
Whereas video clips were made with the intention to make people laugh and also recognise the real power of wind, the online interview in one of the most read electronic sites in Estonia – Delfi – was more serious and readers also took it seriously. Subjects from price comparisons of nuclear and wind plants to the possibilities for local people to invest in wind energy came up. One of the topics that was touched on in almost half of the questions was about small-scale wind energy. Although small wind turbines might be complicated to use in cities, Estonia still has many remote areas where electricity is not always taken for granted. Interest in energy independence at a grassroots level also shows that people are more conscious of the need to save but also their unwillingness to support energy monopolies. In Estonia the majority of electricity is still produced by one state owned utility company that uses oil shale.
Global Wind Day in Estonia received attention also from a local singer and celebrity – Ines. She has participated in Eurovision Song Contest and has twice won Estonia's "Female Artist of the Year" award. Ines decided to make part of her new video for the song called "Tule-tule" in front of some wind turbines. The song has a line saying "come come wind and dry the tears of salt away" and is a perfect summer hit to listen to when you feel like escaping the city. When shooting the video Ines allowed our video crew to film a "making-of" video which was finalized for Global Wind Day. The music video itself will be launched at the end of this month in the summer capital of Estonia – Pärnu. So if you would like to glimpse it follow us on Facebook or Twitter for more.