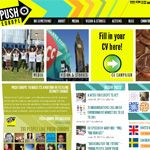 Young people across Europe are demanding that EU leaders raise their ambitions on climate change: the EU's carbon reduction target should be a more ambitious 30% and not the current target of 20%. This is stated in a letter received today by Environment Ministers in all 27 Member States and co-signed by 21 European organisations.
The campaign, called 'Push Europe', centres on young people looking for careers in the low carbon economy of the future. It follows a declaration coordinated by WWF and signed by 72 businesses including household names like Coca-Cola, ASDA, IKEA and Google, also calling for a 30% reduction target.
Moving to 30% could reduce the costs of oil and gas imports by €45.5 billion by 2020 and create six million new jobs, the declaration said.
The Push Europe campaign is "calling for more jobs and opportunities for young people in a low carbon economy, at a time when youth unemployment has reached record levels," Marco Cadena's blog entry on the Push Europe campaign said.
Push Europe is currently collecting the CVs of young people who would like to apply for a job in the future low carbon economy. So far 300 CVs are online and the aim is to hand over the CVs to the incoming Polish Presidency of the EU in the coming weeks.
To find out what you can do to participate in this campaign, visit the Push Europe website.
EWEA fully supports a move to 30% to boost European economic growth, to maintain our technological leadership in green technologies, especially wind power, and to keep climate change in check. Read our report here.