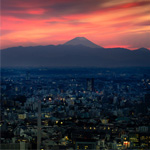 Shaken to its core by the recent earthquake, tsunami and nuclear accident, Japan's Prime Minister Naoto Kan has announced that wind power and other renewables will play a much more important role in providing electricity to the world's third largest economy.
Wind, solar and biomass should become a new pillar of Japan's energy policy while recent plans to increase the number of nuclear power plants operating in the nation should be now be dismissed, Kan said Tuesday.
Kan also suggested that a "second additional pillar" the nation needs is the creation of an efficient energy-saving society.
A statement from his office noted that existing nuclear energy facilities and fossil fuels — currently Japan's two major energy pillars — would continue to be used to create electricity for the nation of 128 million people.
Until the three related disasters struck Japan two months ago, the government had planned to expand the amount of nuclear power to more than 50% by 2030 from the 24% it currently provides.
"I would like to add natural energy and energy saving as two major pillars and to exert further efforts to achieve them, while promoting safety on nuclear energy and reducing CO2 on fossil fuels," Kan was quoted as saying. "Based on these thoughts, I would like to accelerate the discussion on reviewing the overall energy policy."
According to BusinessGreen, a website offering companies the latest news and advice on how to become more environmentally responsible, the Japanese Wind Energy Association (JWEA) wants to see wind power scale up to 50GW of capacity by 2050, from the current 2.3GW today.
BusinessGreen quoted JWEA Director Yoshinori Ueda as saying onshore and offshore wind farms would eventually contribute 25GW of capacity each.
Ueda reportedly said he personally believed an expanded wind power sector could provide 50GW before 2040. He added, however, the wind power sector requires a feed-in-tariff in order to attract investment that will drive rapid expansion.
Japan is not the only country reassessing its position on nuclear power in the past two months.
German Chancellor Angela Merkel has ordered no new nuclear plants be built, temporarily closed seven facilities and demanded security reviews of the nation's remaining 10 plants. She also established an "ethics committee" to look further into the question, which recently said a phase-out of all the country's nuclear capacity was possible by 2021.