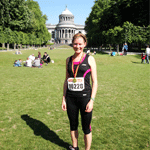 This weekend EWEA's very own Sarah Azau ran a half-marathon in Brussels raising money for Renewable World – a charity that supports the development of renewable energy projects in some of the world's poorest countries – we caught up with her the day after the race…
How did the race go and how do you feel today?
It went well and I am really happy with my time – I completed the 20 km course in 1 hour 38 minutes. But it was a tough race; I ran quicker than I normally do so at times I really had to will myself to keep going. Plus with 30,000 runners you spend a lot of time trying to overtake people, which can be a bit frustrating! However, the great support of the crowd and, above all, the knowledge that I was running to support the fantastic work of Renewable World really spurred me on.
What was the weather like and how did that affect you?
It was 22 degrees, sunny and windy in Brussels on Sunday – a bit too hot! At some points I was forcing myself to go on just with the thought that there might be a water distribution point round the next corner. However on the plus side, I got a bit of a tan!
What did you do immediately after the race?
I met my husband and we walked around the park for fifteen minutes or so to let my muscles cool down. Then we cycled home, I had a hot bath and then the best part – a beautifully cold Belgian beer.
Congratulations on beating your personal best, what position did you come over all, and, what position out of the female runners?
Thank you Zoë! I came 269th out of the 15,000 women running and 3,728th out of the 30,000 runners overall.
That's a big achievement, well done! How did your goal to raise money for Renewable World go?
Really well – I went way over my fundraising target and made €680. Huge thanks to everyone who sponsored me! It's amazing to think that because of my sponsors' generosity and Renewable World's work, more villagers like those I went to see in Nicaragua, or those in the latest Renewable World project in Mozambique, will be able to have clean, unending electricity for the first time ever!
Great news. Do you have any plans to run again next year?
I'll get back to you on that once my legs have recovered from this year!