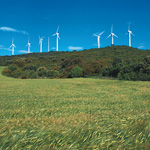 An incredible 65% of Germany's electricity needs can be met by onshore wind power alone, according to a new study published by the Fraunhofer Institute for Wind Energy and Energy System Technology (IWES) and the German Wind Energy Association (BWE) this week.
The news, which also highlights that this can be achieved with wind power technology currently in use – 3MW wind turbines – has hit headlines far and wide in the German national press.
Hermann Albers, President of the German Wind Energy Association, argues in the Handelsblatt that wind power could create the total amount of electricity needed to phase out nuclear power in Germany.