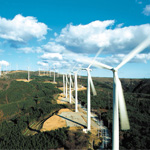 Doctors, nurses and lung specialists in Ontario will launch an expensive advertising campaign to promote wind and solar power over the continued use of coal plants in Canada's most populated province.
The Ontario College of Family Physicians, the Canadian Association of Physicians for the Environment (CAPE), the Registered Nurses' Association of Ontario, the Ontario Lung Association, and the Asthma Society of Canada have agreed to launch the pro-renewables campaign in advance of a provincial election held later this year.
The current Liberal government has said it will shut coal plants in Ontario, which has a population of more than 13 million people, by 2014.
The Toronto Star noted the opposition Conservatives have been highly critical of the Green Energy Act, which seeks to replace coal with renewables and conservation.
Niagara This Week said the ads — which carry the headline "Doctors and Nurses Support Green Energy" — remind readers that the province's coal plants caused more than 150,000 illnesses and more than 300 deaths last year alone.
"Ontario doctors, nurses and other health professionals support energy conservation combined with wind and solar power, to help us move away from coal," the ads say.
Campaign spokesman Gideon Forman, who is also executive director of CAPE, said  nurses and doctors are concerned of the possibility that a new government would not honour the promise to phase out coal-fired electricity plants.
"All the research we've done shows that coal has to go," Forman was quoted as saying.
As Ontario has been developing its wind power resources, critics have complained that turbines can cause health problems to people living near wind farms.
In November, Forman wrote that while health concerns are raised by the anti-wind-power lobby, coal plants in Ontario are the largest source of greenhouse gases in the province.
"In the midst of this ruckus," Forman wrote, "there's an often-missed and very important distinction to be made: coal plants are inherently harmful while wind turbines are not."