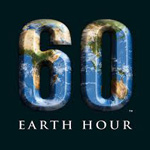 The simple idea behind Earth Hour, originating in Australia a few years ago, has taken off around the world. The project asks everyone to turn off their lights, for one hour, each year at the same time. The reason is to "take a stand against climate change". This year, the date is Saturday 26 March, at 8.30, wherever you are on the planet.
This simple request has garnered massive support. In 2007, the first year of Earth Hour, 2.2 million individuals and more than 2000 businesses participated in Australia. One year later, 50 million people joined in across 35 countries. The Golden Gate Bridge and the Colosseum in Rome were among the landmarks that went dark to mark Earth Hour that year. For Earth Hour last year, 128 countries officially switched off to signify their support for the planet.
The movement has grown even more since then, and 2011 will be the biggest yet. Earth Hour has caught the imagination of ordinary people, becoming a force for raising awareness on sustainability issues.
This year the World Wide Fund for Nature (WWF), the organisers of Earth Hour, have tried to extend the project by asking people to go "Beyond the Hour". People have been pledging on the Earth Hour website to go beyond the gesture of a single hour without electric light, to do things in the long term that will have an effect on sustainability and climate change. Their pledges are posted on the site, and others can then decide to emulate this pledge, or come up with their own. The pledges range from a man in Kansas who promises to only take five-minute showers to Mcosso in Brazil who will "ler um livro a luz de vela" – read a book by candlelight.
Earth Hour shows that people around the world are prepared to work together to prevent climate change, and that they are aware of sustainability issues. They want to be connected to others who are equally aware, and to know that they are part of a worldwide movement. A simple idea and some organisation really can make a difference.