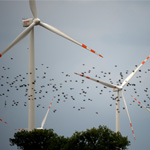 Lost in the excitement of last week's EWEA 2011 Annual Event in Brussels was a press release from the American Bird Conservancy noting that at least 500 million birds are killed in the US each year by cats.
A comparison of that figure to the 440,000 birds reportedly killed annually in the US by collisions with wind turbines surely must put into perspective the anti-wind lobby's ardently exaggerated claim that birds are overly threatened by turbines.
That's because the numbers tell the tale: In the US, each year wind turbines kill 0.088% of the birds killed by house cats.