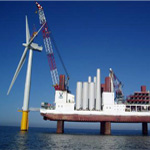 Scotland's rapidly-developing offshore wind power industry got another major boost on Tuesday with an announcement that Doosan Power Systems will invest up to €195 million in the sector over the next 10 years.
Doosan says it wants to locate an R&D Centre of Excellence for Renewables at its site in Renfrew. The company says a second phase will involve establishing assembly and manufacturing facilities in Scotland — now Doosan's favoured location for wind turbine prototype-build and manufacturing.
According to a press release, the venture is expected to create up to 1,700 new jobs — of which Doosan will recruit approximately 700, with a further 1,000 set to be employed through the supply chain.
The details of plans are subject to final discussions and agreement between Doosan and Scottish Enterprise.
Doosan currently offers a 3MW wind turbine product and is developing a 6MW+ version for offshore applications.
Jean-Michel Aubertin, Doosan's Chief Executive Officer, said "we hope to develop cutting-edge wind power technology that will enhance the role of renewables in the energy mix."
Alex Salmond, First Minister of Scotland, said the wind power announcement underlines the nation's "growing reputation for excellence and innovation in clean energy design and engineering."
The offshore wind sector could create as many as 48,000 jobs in Scotland by 2020 and contribute €8.4 billion to the economy over the next decade.
In January, Gamesa indicated it wanted to establish a marine wind technology centre in Scotland as well as developing an industrial base for manufacturing, logistics and operation and maintenance activities in the Dundee area. Gamesa's offshore wind plan for Scotland represents a potential investment of €50 million and could create 300 direct jobs.
Late last year, Mitsubishi Power Systems said it intends to invest €118 million in the development of offshore wind technology in Scotland that might result in a major offshore wind turbine manufacturing site in the country.