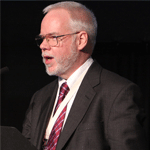 The negative impacts of offshore wind power can be avoided altogether or mitigated through proper planning, people attending a panel session at the EWEA2011 Annual Event heard Thursday.
Dan Wilhelmsson of the Swedish Secretariat for Environmental Earth System Sciences added that the offshore wind power sector can even be positive for the local marine environment.
Wilhelmsson said a recent report he and others produced for the International Union for Conservation of Nature and Natural Resources reviewed 32 different environmental issues associated with offshore wind and found eight required special attention.
Called Social and Environmental Acceptance, the session discussed how wind farms can provide environmental, economic and societal benefits — even though they often face criticism in the planning stages.
Micheal O'Briain DG Environment, European Commission, said planning is vital if the European Union is to achieve both its climate change objectives and biodiversity challenges.
"We have significant potential, if we aren't careful, to have conflict between these objectives," O'Briain said, adding a recent EC document provides guidelines for national authorities, the wind power sector and private citizens.
"We have to meet our renewable targets but not at the expense of biodiversity," he said. The key message, he added, is that wind power should not present a threat to nature and biodiversity.
David Jones, editor of Platts Renewable Energy Report, said a five-year review of decisions made by the UK Advertising Standards Authority shows that the anti-wind farm lobby is much more likely to be cited for false advertising than the pro-wind farm lobby.
Jones said the authority upheld 55 of the 63 challenges to anti-wind farm advertising. In comparison, he said, less than one-third of complaints against pro-wind farm ads were upheld.
"The anti-wind farm lobby has consistently shot itself in the foot," he said, adding many of the false claims suggest wind farms negatively affect human health and drive down the property value of homes near wind farms.
Jones also said he expects the anti-wind farm lobby will continue making misleading  statements about the sector and that, through the internet and social media, the false claims will increase.