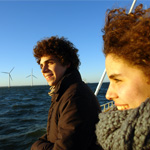 Can you imagine standing in the nacelle of a turbine, 50 metres above a sparkling sea, being buffeted by the wind?
Even for some of those who work in the sector, climbing a wind turbine is a rare and exciting privilege. On Saturday I was lucky enough to do just that for the first time in Denmark, alongside the winners of EWEA's 'Breath of Fresh Air – Adopt a Turbine' competition.
17 year old Lien Van Hout from Belgium got the most votes for the turbine she adopted, and she took her brother along to Copenhagen to enjoy her prize – visits to an onshore and an offshore farm. EWEA's Campaigns Officer Elke Zander, who organised the competition, accompanied them and I went along for the onshore visit.
The seven turbines in the Lynetten wind farm are situated on a narrow strip of land that runs between a harbour and the open sea. Fairly small by modern standards, at just 600 kW capacity each, four of the seven are owned and run by members of a cooperative. Members of the cooperative buy a share in the wind farm and get money back from the sale of the power produced.
Jens Anker Hansen, in charge of the maintenance for the cooperative, was our guide. Inside the bottom of the tower, he asked Lien to stop the turbine. This was done, quite simply, by pressing a "stop" button – we heard the purring of the blades gradually slow above us. We then began the long climb up 50 metres of metal ladders, one by one, to the opened nacelle.
There was just about room for all of us up at the top. The cloudless blue sky allowed us to see not only the other six turbines of our wind farm, which were still smoothly turning in the strong, wintery wind, but also the curve of the Middelgrunden offshore wind park 2 km from shore and, tiny specks on the horizon, Sweden's Lillgrund turbines.
Later the same day, Lien, her brother and Zander went on a boat to see the Middelgrunden offshore wind farm, located just outside Copenhagen harbour. Established in 1996, 10 turbines are owned by DONG Energy and 10 by the Middelgrunden Wind Turbine Cooperative, a group of wind energy enthusiasts. The sailors endured a fairly rough sea, but were rewarded with amazing close up views of the Middelgrunden wind farm during sunset.
"This is a once in a lifetime experience!" said Lien Van Hout. "I'm so grateful to EWEA and the Breath of Fresh Air campaign for letting me find out more about wind energy, and show my support for it, in such a fun and informative way."
The visits were organised with the help of the Danish Wind Industry Association.
More on the campaign: www.ewea.org/freshair
Click here to see more photos