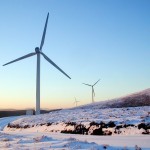 For wind energy aficionados, one of the most interesting stories to make its way across the internet last week involved an academic study claiming that the installation of 3.8 million 5 MW wind turbines could generate half the world's power needs by 2030.
Published in the respected journal Energy Policy, and entitled 'Providing all global energy with wind, water, and solar power,' the study noted climate change, pollution, and energy insecurity are among the greatest problems of our time.
"Addressing them requires major changes in our energy infrastructure," said the two California academics, Mark Z. Jacobson and Mark A. Delucchi. "Here, we analyse the feasibility of providing worldwide energy for all purposes (electric power, transportation, heating/cooling, etc.) from wind, water, and sunlight (WWS)."
Jacobson, who is in the Department of Civil and Environmental Engineering at Stanford University, and Delucchi, in the Institute of Transportation Studies at the University of California in Davis, estimate that by combining the 3.8 million wind turbines with enough concentrated solar, solar PV, geothermal and hydroelectric plants, as well as wave devices and tidal turbines, by 2030 the world could use electricity and electrolytic hydrogen for all purposes.
"Such a WWS infrastructure reduces world power demand by 30% and requires only 0.41% and 0.59% more of the world's land for footprint and spacing, respectively," they said.
"We suggest producing all new energy with WWS by 2030 and replacing the pre-existing energy by 2050. Barriers to the plan are primarily social and political, not technological or economic. The energy cost in a WWS world should be similar to that today."
Their study showed that wind power could supply 50% of projected total global power demand in 2030, while the concentrated solar plants, the solar PV power plants and the rooftop PV systems could supply another 40%. The remainder would come from geothermal and hydro-electric power plants, wave devices and tidal turbines.
The study also showed that the total footprint on the ground for the 3.8 million wind turbines would only be 48 square kilometres, which is smaller than Manhattan. The existing transmission infrastructure would of course need to be greatly expanded.
On a European level, EWEA is endorsing a declaration calling for a 100% renewable energy vision by 2050. EWEA believes by 2050 wind energy can supply 50% of Europe's power needs provided certain actions are taken, above all the power grid being extended and upgraded in good time.