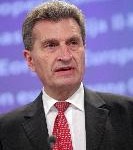 "We must act today to prepare the electricity highways of tomorrow", urged EU Energy Commissioner Günther Oettinger at a recent conference in Brussels. He also deplored the length of time new grid lines currently take to get approved and built, saying it was "unacceptable".
The Commissioner particularly underlined the need to integrate the offshore wind potential of north-western Europe into an EU-wide power grid.
While stressing the urgent need to act and speed up grid development, Commissioner Oettinger also emphasised the key role of the markets in funding the large majority of the grid upgrades.