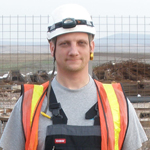 Over 200,000 people make the European wind industry tick. Who are they and what exactly do they do? Wind Directions met some 'wind workers' to find out.
Martin Mortensen spends most of the year out of his home country, Denmark. A commissioning engineer with Suzlon for nearly 11 years, Mortensen's job involves starting up the newly installed turbines and running tests to make sure everything is fine. He also does update work and trains service staff.
His long time in the industry means he remembers when a 900 kW machine seemed huge, and people said "Wow! We won't be able to get any bigger than that!" Now he works with Suzlon's 2.1 MW turbine.
Claus Pedersen, who works for Siemens, always has an eye on the weather as it will affect his day in his role as assistant site manager of an offshore wind farm, Rødsand 2. He needs to identify any spare parts needed for the turbines and plan service hours and boat transfers to the wind farm. He enjoys working one week on, one week off.
Both men enjoy what they do, although Mortensen is glad modern telecommunications means he can always speak to his family, even when he's away for work!
Read the interviews in full in the latest Wind Directions.