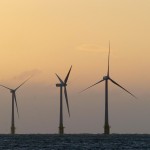 "EWEA names UK leader in offshore wind"
"Offshore-Windparks wachsen weiter und schneller ins Meer"
"UK wind energy blows away EU rivals"
"European Offshore Wind May Surge 70% in 2011, Trade Group Says"
Those were just some of the headlines on stories published by international media outlets, trade publications and blogs in response to a European Wind Energy Association (EWEA) press release last week announcing another surge in the development of offshore wind power.
And it is understandable there was such interest especially considering the EWEA press release noted that "with 308 new offshore wind turbines installed in 2010 – an increase of 51% in installed wind power capacity on the previous year – offshore wind power experienced a new record growth in Europe."
EWEA noted that the 883 Megawatt (MW) of new capacity, worth some €2.6 billion, installed last year in nine wind farms in five countries made a cumulative total of 2,964 MW in Europe's northern waters.
The association also noted the installed offshore wind power capacity now supplies the equivalent of 2.9 million average EU households with electricity – comparable with the amounts of power consumed by the cities of Berlin and Brussels together – from a total of 1,136 offshore wind turbines.
So that you won't think EWEA is bragging unnecessarily, consider how the media reacted to the annual offshore statistics.
"European installations of offshore wind power may surge 70 percent this year, topping 2010's record 51 percent gain," Bloomberg noted. "This year is likely to have 1 gigawatt to 1.5 gigawatts of sea-based windmills connected to region's electricity grid."
"Latest offshore wind statistics released by the European Wind Energy Association (EWEA) confirm that the UK is the European and world leader in the sector, with 1,341 MW installed," The Engineer reported.
"New figures on offshore wind projects, released by the European Wind Energy Association (EWEA), have revealed that the United Kingdom is the industry leader with the highest generation across Europe," wrote The Scotsman.
The responses were indeed gratifying but not as much as knowing that the European offshore sector is fast developing its considerable potential.  Simply put, offshore wind is ready to make a further contribution to supplying increasing amounts of emissions-free electricity, helping mitigate climate change and contributing to a new green economy.