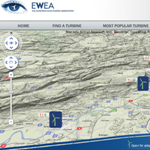 Almost 10,000 people have taken part in the EWEA 2010 campaign by adopting wind turbines or voting for the ones their friends had adopted in order to show their support for wind energy.
The 'Breath of fresh air' campaign is coming to an exciting point in just a few days: EWEA will be able to announce the two winners of the 'tell a friend' contest who will win a trip to Denmark and Switzerland.
One prize is a weekend in Copenhagen including a wind farm visit organised by the Danish Wind Industry Association. Denmark is the world's wind energy pioneer with more than 20% of its electricity being produced by wind. Denmark is also home to major wind turbine manufacturers and its capital, home to the oldest monarchy in the world, has numerous museums, world-class modern architecture and a network of canals and cobbled squares that will take you back in time.
The other prize is donated by sol-E Suisse, Swiss subsidiary of BKW FMB Ltd, active in renewable energy and operator of Juvent, Switzerland's largest wind farm. The prize is a guided tour to the wind farm site at Mont-Crosin (if it snows this will include a snow shoe tour). The region is situated in the mountains at almost 1,200 m, in the beautiful landscape of the Swiss Jura, in the Bern canton.
We are curious who will make it to the top of the list in the end and of course invite you to show your support for wind energy by adopting a wind turbine as well!